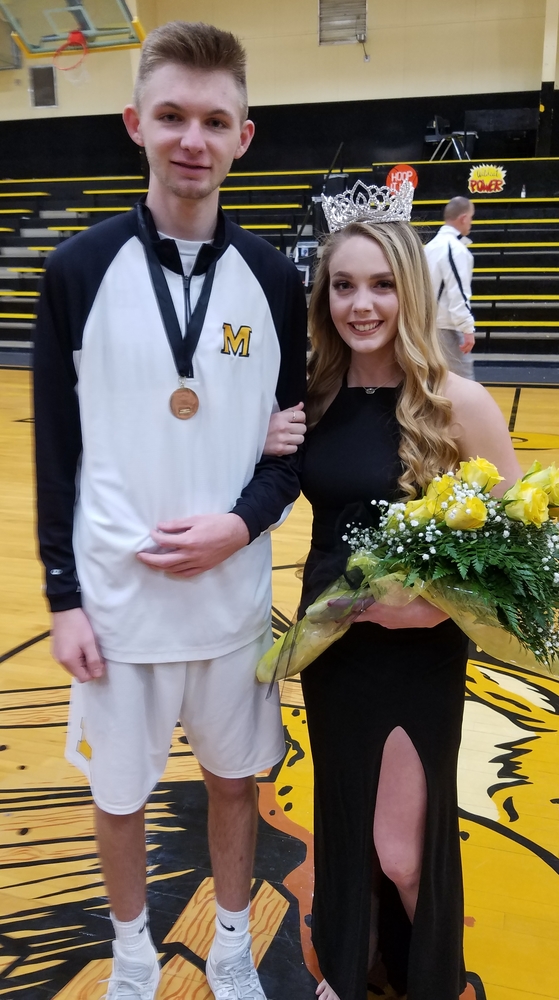 Madill Basketball Boys Clinch OT Win, Girls Fall to Lone Grove; Jowers, Hughes Named Royalty; Watch on Demand
Brandon Jacks
Tuesday, January 23 2018
The Madill boys basketball team dug deep to clinch a 62-59 overtime victory against Lone Grove on homecoming Tuesday night. The 'Cats trailed for much of the contest. Madill was down 15-6 after the first quarter, 29-19 at the half and 40-32 at the conclusion of the third. However, that's when Madill came alive to erase that deficit. Pressure defense netted the 'Cats offensive opportunities. Madill grabbed the lead 52-51 on a baseline three-pointer from Miguel Duran with 32.1 seconds left in regulation. It was tied 53-53 at the end of the fourth. Madill outscored the 'Horns 9-6 in the extra session. Isai Castaneda, Seth Coleman, Aaron Vann and Wyatt Gray sank crucial shots down the stretch to help the Wildcats' cause. Lone Grove's last offensive possession produced no points. The first of two shots came from the left wing and missed. The 'Horns' final three-point shot went in from the right wing, but it was after the horn had sounded to end the contest.
However, the Madill girls weren't as fortunate with the outcome of their game. The Lady 'Cats dropped the contest, 70-40.
Madison Jowers won homecoming queen and Trey Hughes was named king in the ceremony to conclude the night.