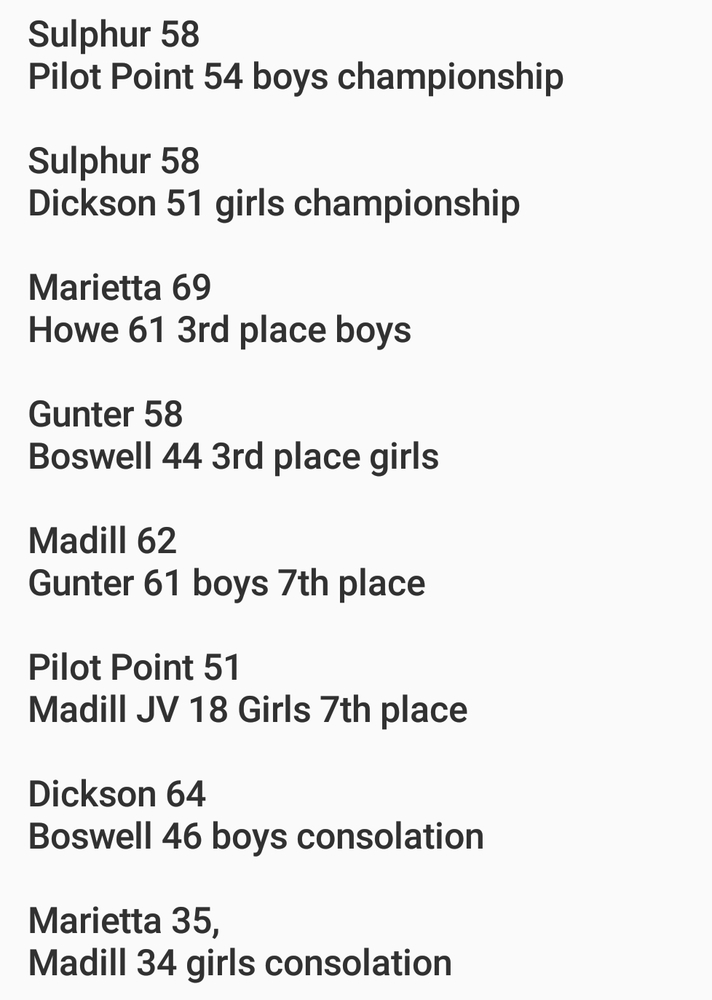 Madill Winter Classic Crowns Champions Saturday; Madill Boys Win Late, Girls Suffer Narrow Loss; All-Tourney Team Announced; Watch on Demand
Brandon Jacks
Sunday, December 10 2017
The Madill Winter Classic closed out with championship Saturday. The Madill boys claimed a 62-61 win over Gunter for seventh place and the varsity girls suffered a narrow 35-34 loss to Marietta in the consolation championship. The junior varsity girls were beaten 51-18 by Pilot Point for seventh.
Asa Robertson curled into the lane and got his shot to crawl over the rim on what proved to be the game-winning basket for the Madill boys over Gunter. Robertson rebounded a Madill missed free throw on the right baselline with 13.1 seconds left in the contest.
The varsity girls trailed for much of the game Saturday but battled back to take a lead over Marietta. Heartbreak for the girls came with .7 seconds left on a made free throw by the Lady Indians.
Rylee Ruff and Tanner Barnes earned all-tournament honors for Madill. Chase and Toby Todd of Sulphur were awarded the Carol Stafford Coaches' Award. Sulphur took home the sportsmanship award as voted by tournament game officials. Sulphur secured the tournament championship for the girls and boys division.
Girls all-tournament team: MVP, Payton Rowe, Sulphur; Rylee Ruff, Madill; Ashley Torres, Marietta; Cienna Young, Dickson; Harlie Easley, Sulphur; Matalie Busby, Boswell; Clary Donica, Dickson; Lanee Pardue, Boswell; Tori Gitttens, Gunter; Logan Gentry.
Boys all-tournament team: MVP, Houston Haines, Sulphur; Tanner Barnes, Madill; Ty Harvey, Howe; Levi Russell, Boswell; Hunter Palesano, Dickson; Cole Johnson, Sulphur; Cody Collinsworth, Pilot Point; John Jacobs, Sulphur; Quincy Kemp, Pliot Point; Ty Scott, Gunter.
Click to Watch Championship Saturday on Demand from Dec. 9

Click for story posted by Ardmoreite in Winter Classic

Click for Highlights of Winter Classic posted by KTEN

Click for Highlights of Winter Classic Posted by KXII