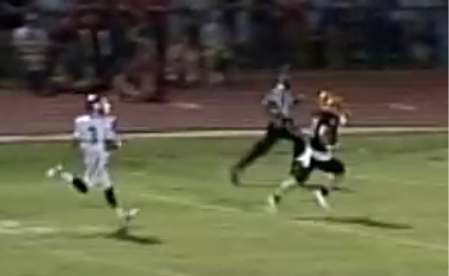 Madill Closes out Win over Kingston in Final Minutes
Brandon Jacks
Friday, September 15 2017
A fourth-down conversion attempt from Kingston was turned away as Josh Crowell successfully broke up a pass to help preserve a 23-17 victory for Madill in the waning minutes of Friday night's football contest at Blake Smiley Stadium.
Kingston had taken possession of the ball, had it at the Madill 47-yard line and trailed only by six in the final frame. Incomplete passes ended the drive. Madill got the ball and drained the remaining time to get the win.
Jase Hayes took in an 11-yard touchdown pass with 2:05 to go to pull within 23-17 of the Wildcats. Garrett Voyles jump-started the Redskins comeback attempt on an 11-yard TD run with 2:55 left in the contest.
A four-yard TD scamper from Colton Jones granted the 'Cats a 23-3 advantage in the fourth quarter.
Kingston's Trey Keatts booted a 26-yard field goal to put the Redskins on the board with seven minutes showing in the third quarter. Trevor Goff responded immediately for Madill with a 94-yard TD return on the ensuing kick at the 6:48 mark of the third.
Seth Coleman's two-yard run gave the Wildcats a 9-0 edge in the second quarter. A safety by the Wildcats defense began the scoring after the game went scoreless the entire first frame.
Madill has Sulphur for homecoming Sept. 22.